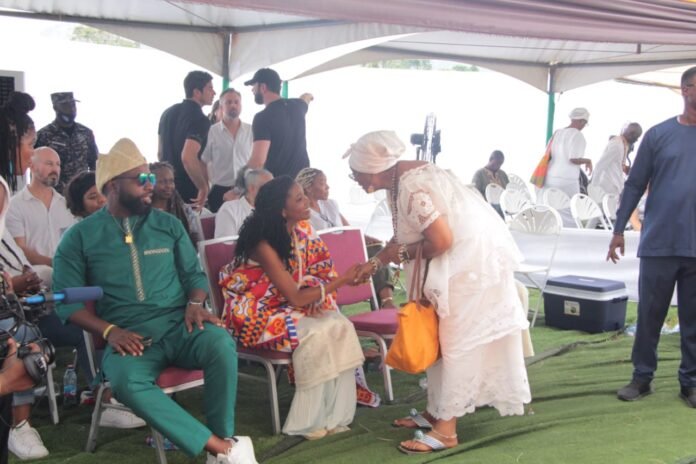 NBA superstar Dwyane Tyrone Wade and his wife Gabrielle Monique Union-Wade, also a  popular American actress on Monday, October 31, 2022, visited Nyamebekyere a farming community in the Eastern region of Ghana in West Africa to attend the enstoolment of  Diallo Sumbry as Nkosuohene (Development Chief) of the community.
The Miami heat legend and his wife were at the traditional ceremony with their child Kaavia James.
They were honored and decorated in Ghana's treasured traditional cloth "Kente".
Dwayne and Union were both given Ghanaian traditional names -Kwasi and Akosua Sarfoaa respectively.
The visit to Ghana by Wade and Union is part of their global tour dubbed Wade Tour 2022.
The basketball ball super Star's professional career lasted 16 years in the NBA.
Wade won three NBA titles in 2006, 2012, and 2013 with the latter titles coming as part of the Miami Heat's powerful trio alongside LeBron James and Chris Bosh.
He becomes the second member of the legendary trio to visit Ghana after Bosh flew into the country back in 2014.
He played for Miami Heat, Chicago Bulls and Cleveland Cavaliers before retiring from the NBA in the 2019 season.
Wade is the most decorated player in Miami Heat team history. He is the franchise's all-time leader in points.
He is expected to be inducted into Naismith Memorial Basketball Hall of Fame Class in 2023.
Wade will become the fourth player with Heat ties to enter the Hall of Fame after Shaquille O'Neal, Alonzo Mourning and Chris Bosh.
Diallo Sumbry enstooled Nkosuohene
Diallo Sumbry, the founder of the Washington D.C. based The Adinkra Group, an African Cultural Edutainment Resource and Consulting Company and organizer of the Back2Africa Festival and Tour has been enstooled Nkosuohene (Development Chief) by the Chiefs and People of Nyamebekyere community in Ghana.
The colourful traditional ceremony held Monday October 31,2022 was attended by dozens of black Americans and traditional rulers in Okuapeman traditional area delegated by Okuapehene Oseadeeyo Kwasi Akuffo III.
Diallo Sumbry was given stool name as Nana Kwabena Duku (I).
As development chief, Nana Kwabena Duku I is expected to spur development in the community.
He has already completed first phase of ongoing library and community center project which was inspected.
He has also planted acres of cocoa farm in the community.
Okoman Aboa Offei who represented Okuapehene said, Diallo's presents in the community is attracting lots of tourists boosting the local tourism industry.
Guests were thrilled with live band musical performance by the diasporans team that graced the ceremony.
Diallo Sumbry now Nana Kwabena Duku I, was appointed as Ghana's first African-American Tourism Ambassador by Ghana'a Ministry of Tourism, Arts and Culture.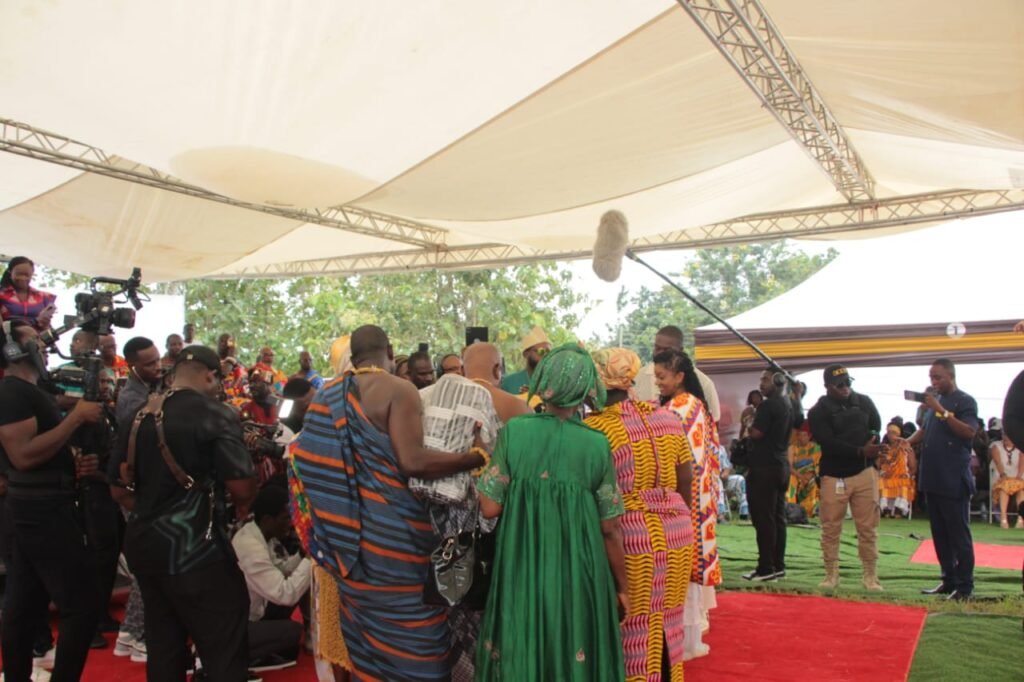 Mr. Sumbry joined Ghana Tourism Ambassadors including Afrobeats Star Fuse ODG, Ghanaian Rap Star, Sarkodie, Ghanaian British Singing Sensations, Reggie N Bollie, and Singer Wiyaala to transform and promote tourism as a leading sector of the economy in Ghana.
Diallo has over the years demonstrated commitment to promoting Ghana's Sustainable Domestic and International Tourism through Music, Arts and Culture.
In the past few years Mr. Sumbry has organized the Back2Africa Festival and Tour, a birthright journey to Africa with a mission to connect people of African descent with the culture and traditions of Africa.
He is credited for thousands of diasporans to Ghana including Washington DC based artists the Backyard Band, Farafina Kan Drum and Dance Ensemble, Wes Felton, and Grammy-nominated R&B singer Raheem Devaughn.
Sumbry organized a three U.S. state visit for Ghana Tourism Authority in March 2018, led the organizing team for the Year of Return Launch in Washington, DC. and business delegations to Ghana to explore partnership and investment including the Chairman and CEO and Staff of Ebony Magazine and the President and Executive Staff of NAACP.
Mr. Sumbry delivered the first U.S. State and Capital City joint Legislative Resolution in support of the Year of Return from his birth state and city – Trenton, NJ to His Excellency, Nana Addo Dankwa Akufo Addo in his office.
Ambassador Sumbry, worked together with his father, Aula Sumbry, a Pan Africanist and activist who lives in New Jersey, to obtain the resolutions from the State of New Jersey and City of Trenton.
Source: Ghana/Starrfm.com.gh/103.5FM/Kojo Ansah