Source: aolnews.com ..visit aol news for more news and updates.
He once joked that he only took issue with the KKK's drug use and referred to civil rights groups as "un-American."
Donald Trump
will nominate as the 84th attorney general of the United States was once rejected as a federal judge over allegations he called a black attorney "boy," suggested a white lawyer working for black clients was a race traitor, joked that the only issue he had with the Ku Klux Klan was their drug use, and referred to civil rights groups as "un-American" organizations trying to "force civil rights down the throats of people who were trying to put problems behind them."
Sen. Jeff Sessions (R-Ala.), an early Trump supporter who has been playing amajor role on the Trump transition team, met with the president-elect in New York on Thursday. In a statement, the Trump team said the president-elect was "unbelievably impressed" with Sessions.
On Friday morning, Trump and Sessions confirmed that Sessions had been offered the attorney general position.
J. Gerald Hebert remembers Sessions' time as the top federal prosecutor in Mobile, Alabama, well. Speaking to The Huffington Post earlier this month, Hebert said he was stunned that an Attorney General Jeff Sessions is a possibility.
More than three decades ago, Hebert was in his 30s and working on voting rights cases for the Department of Justice's Civil Rights Division. He was based in D.C. but spent time in Alabama working with Sessions, who was a U.S. attorney in Ronald Reagan's administration.
"He was very affable, always wanting to have a conversation, a cup of coffee," Hebert said. "Over the course of those months, I had a number of conversations with him, and in a number of those conversations he made remarks that were deeply concerning."
After Sessions was nominated to be a federal judge in 1986, Hebert appeared before the Senate Judiciary Committee to testify about these remarks. It was unusual for a career DOJ lawyer to testify about a judicial nominee's character, and Hebert said at the time that he did so with "very mixed feelings," telling senators he considered Sessions "a friend." Hebert told them Sessions had "a tendency to pop off" and that he was "not a very sensitive person when it comes to race relations."
HuffPost reviewed a transcript of the Sessions' 1986 confirmation hearings. In this selection, Hebert testified that he had once relayed comments about a white lawyer being described as a race traitor, and that Sessions had responded by saying "he probably is":
WASHINGTON ― The man who President-elect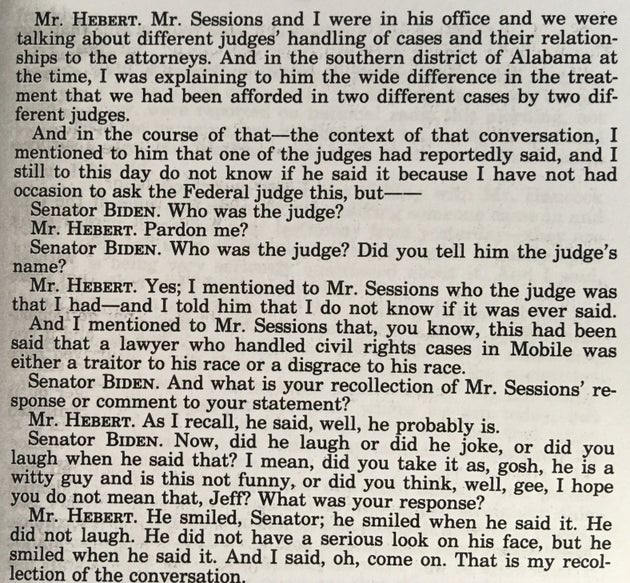 Sessions testified that he did not believe he had made such a remark, but his views changed as he reflected.
"The best I could recall was that I said, well, he is not that popular around town; I have heard him referred to as a disgrace to his race," Sessions said. He said he did not personally believe that the white civil rights attorney was a race traitor, and that he had respect for him.
Sessions testified that he enjoyed the "free flow of ideas" and liked to stir it up with Hebert when he was in town. "I like to discuss things. I am open: I like to discuss with liberals better than I do with conservatives," Sessions said.
In describing one conversation with Hebert on civil rights, Sessions articulated his view that things were pretty great for minorities in the 1980s and that civil rights organizations were asking for too much.
"I made the comment that the fundamental legal barriers to minorities had been knocked down, and that in many areas blacks dominate the political area, and that when the civil rights organizations or the ACLU participate in asking for things beyond what they are justified in asking, they do more harm than good," Sessions testified.
That's not exactly how Hebert recalled it: