Editorial Values and Newsworthiness
The media shapes news narratives within ethical thresholds and belief systems aim at ensuring human development. News is highly influenced by belief systems. It invariably induces self-inflicted censorship on journalists as to what material to select, and what not to select based on a criterion known as news values and news worthiness of the material in question. This criterion ascribes three dimensional features an event should possess to qualify as news: For instance, news value of an event or an issue relates to the impact associated with it, on the other hand, newsworthiness, assumes the likelihood of an event qualifying editorial decisions, pass editorial tests of selection, and finally be selected for publication as either editorial, news feature or audience feedback (letters to the editor). The same editorial-value-test decides on the news placement, either a story qualifies for front page, centre spread, or back page. In summary, news is not an event of chance, but constructions of editorial-value's realities influenced by the event at stake, professional routines, cultural, ideological beliefs, economics of scale, corporate philosophies, technological and political conditions and environment. News making Journalists may not necessary be following straight-jacket rules of news selection but are highly guided by the principles of 'public interest' and the forces that holds the public sphere in balance and tranquility. Rather, the media, through its news selection, perpetuates socio-cultural and economic balance in the society by assigning degrees of editorial values to its powerful mouth-piece known as –The Editorial-. The media, through the power of its editorials, is able to set an agenda, initiate a sense of change, and whip up public attention towards a concern.
News Editorial – Agenda Setting:
Editorials' agenda setting power emanates from the fact that editorials are not just news, but a space for social actorship. Editorials act on behalf of the public, the vulnerable voices, the diverse interests, the policy makers, the opinion leaders. Also, editorials support a particular view, an issue, or a legislation. In other words, editorial is about championing an opinion. In addition, news editorial is an agenda setting machinery which churns out views mostly upheld by editorial board, the media's governing board, editors and business managers who throws flash light on an issue and subsequently exposes the grey areas for the needed attention. Moreover, editorials open up rigorous debates, invites dissenting views to reengage for a needed change. That is, the media direct our attention and attachment. To put it mildly, editorial is an opinion maker, it forms opinions, it directs opinion, it persuades, it critiques, it praises where its due and equally provides solutions. Like any other editorial, the state-owned print media: The Daily Graphic and Ghanaian Times, performs editorial functions as aforementioned. The Ghanaian state-owned print media editorials equally induce a level of change in the Ghanaian society through their daily editorial agenda setting roles. The basic concern among others within the public sphere is: What topical issues constitute the state-owned print media editorials, which type of the topical issues are covered most and does the state-owned media act according to the Chapter 12, Articles 163 & 164 of the 1992 Ghanaian constitution of equal representation and inclusiveness of all voices?
Editorial Right: As Child's Inclusiveness
In furtherance of the above, this study hinges on media and child right-inclusiveness promotion as in the Ghanaian state-owned media editorials. The equitable representation of children and their related issues are universal rights of children under the Article 12 of United Nations charter on Children to express their views on all matters. Invariably, the media is expected to act on behalf of children and as custodian of Child Rights. For instance, the 1992 Constitution of Ghana enjoins the state-owned media to give equal voices to all dissenting views. Among these dissenting views and voices are Child Voices, Child Views, Child Issues, and Child Rights. Again, the media is highly challenged to reimagine the issues affecting Child Rights and to initiate the needed change in their editorial agenda setting roles. The reimagination of children issues is a cognitive process through which media, policy makers, opinion leaders can appreciate the core needs relating to Child Rights and Child -Inclusiveness. This position, is well articulated by Anne-Claire Dufay, UNICEF Ghana Representative that as society"We must work to our optimum to reimagine a better future for every child and to enable every child to fulfil her or his dreams and potential"- The media's contribution to this reimagination call is, by projecting child related topics and issues in news editorials.
Findings:
In establishing the extent of constitutional adherence by the state-owned media in promoting editorial balance of equal representation of topical issues, Institute of Brand Narrative Analysis (IBNA) examined news editorials themes of Daily Graphic and Ghanaian Times to identify the coverage of Child related themes or voices as compared to non-child themes. Child-themes or child voices means news editorials drawing public attention to child-related issues. Non-child voices are editorials without child related elements.
From an inductive thematic analysis perspective, the news editorials were coded, and reviewed to map out the intended opinion of the editorial. A total of 87 editorials from January to February 2020 in Daily Graphic and Ghanaian times were recorded through the application of multiple coding. COVID-19 recorded the highest editorial with 23 related topics. This was followed by Democracy & Governance and Education with each recording 9 themes. Only 6 editorial topics were on Children under themes of education, breastfeeding and others. It is however not blamable to find Covid-19 recording the highest score considering the state of pandemic. Similarly, the scores for democracy and governance were due to the aftermath of the 2020 general elections and schools reopening in January after ten months of schools shut-down. In terms of percentage distribution, only 7% of editorial-voice share was allocated to children by the Daily Graphic and the Ghanaian Times whilst non-child voices recorded as high as 93% editorial share.
IBNA, appreciates the efforts and contributions both national daily newspapers have made over the years in promoting child-related voices. The editorials are therefore encouraged not to relent in their efforts especially in these times of many and equally important topics competing for editorial selection and attention. This study is therefore not meant to criticise the positive efforts by the Daily Graphic and Ghanaian Times but to encourage a collective response to child-editorial voice share in their editorial decisions.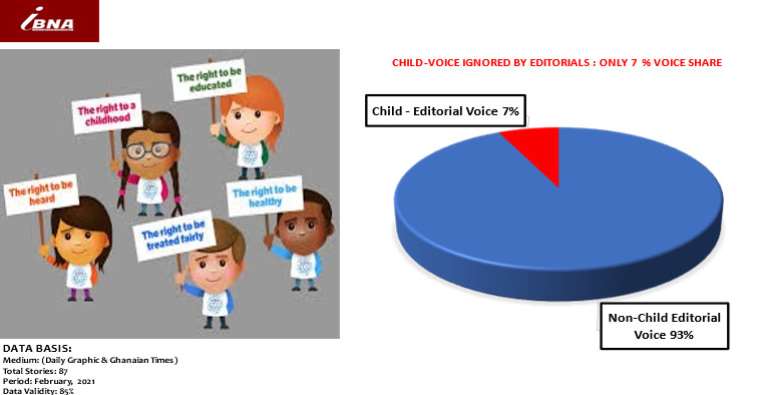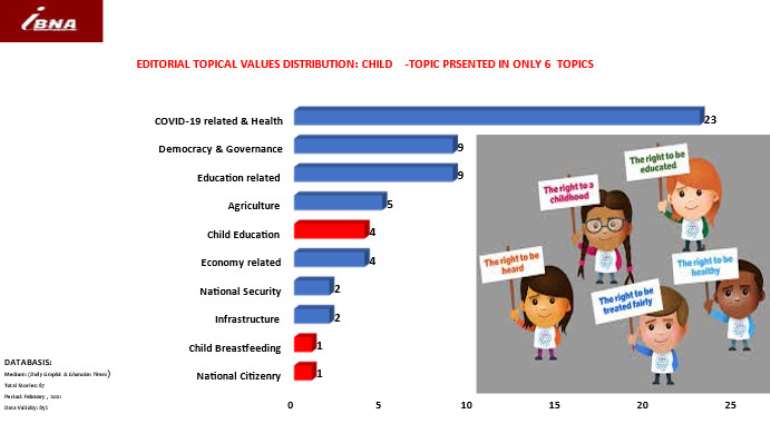 Article and Study By: Messan Mawugbe (PhD), Lecturer at the Department of Communication Studies of the University of Professional Studies, Accra (UPSA, Accra) and a Founder of the Institute of Brand Narratives Analysis (IBNA)
Email: nekzy@yahoo.com